​Black Crochet Top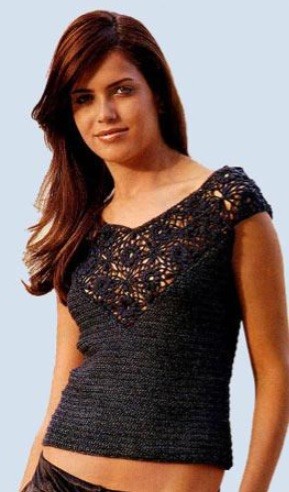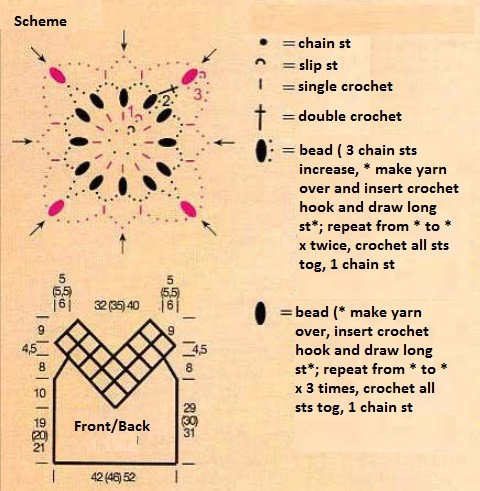 You'll need:
250 (300) 300g of black yarn (39% cotton, 39% polyacryl, 11% linen, 11% viscose; 190m/50g);
Crochet hook 3.

Size: S (M) L.
Used Patterns
Main pattern: half-crochets, replace the 1st half-crochet of every row to 2 chain sts.
Square: make 6 chain sts and circle them in the ring with 1 slip st in the ring. Work due to the scheme with circle rows. Replace the 1st st of every circle row to chain sts increase, the quantity of which is stated on the scheme and finish with 1 slip st in the last chain st increase or as stated, 1 double crochet. Repeat 1st-3rd circle rows x once, connect the squares due to the scheme, starting with the 2nd square. For this, join to the previous square in the 3rd circle row with the help of 1 single crochet.
Stitches control: main pattern: 23 sts x 18 rows = 10 x 10 cm;
Square: 6,5 cm x 6,5 cm.
Instructions
Front/Back
Make 96 (106) 120 chain sts + 2 chain sts increase and work with the main pattern. In 19 (20) 21 cm from the set-up row, divide your work in the middle and finish each side separately. For chamfer, bind off 19 (19) 7 x 2 sts together in every row from inwards, then, * make 1 x 3 sts, 1 x 2 sts together by turn in every row*; repeat from * to * x 4 (5) 11 times. At the same time, in 29 (30) 31 cm from the set-up row, decrease 11 (13) 14 x 1 st in every row from both sides for arm-holes. In 37 (38) 39 cm from the set-up row, make the rest 3 sts together from each side.
Yoke
Make 32 squares and connect them due to the scheme in the yoke of front and back.
Assembly
Make shoulder seams, for this, connect squares with single crochets. Make side seams.