​Black Relief Vest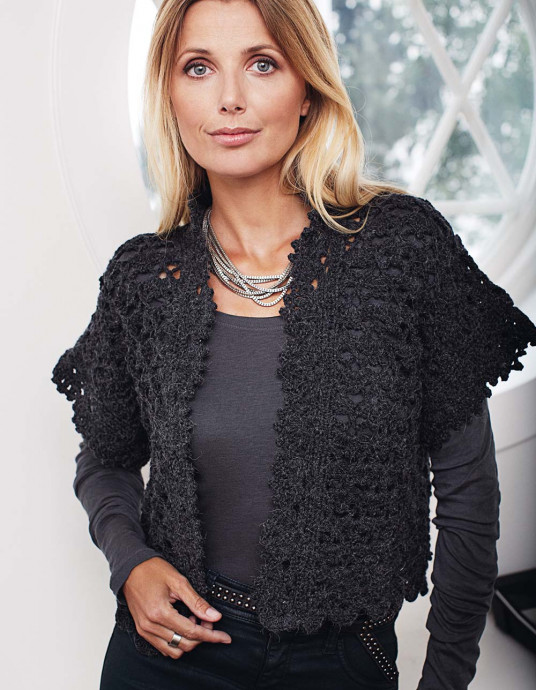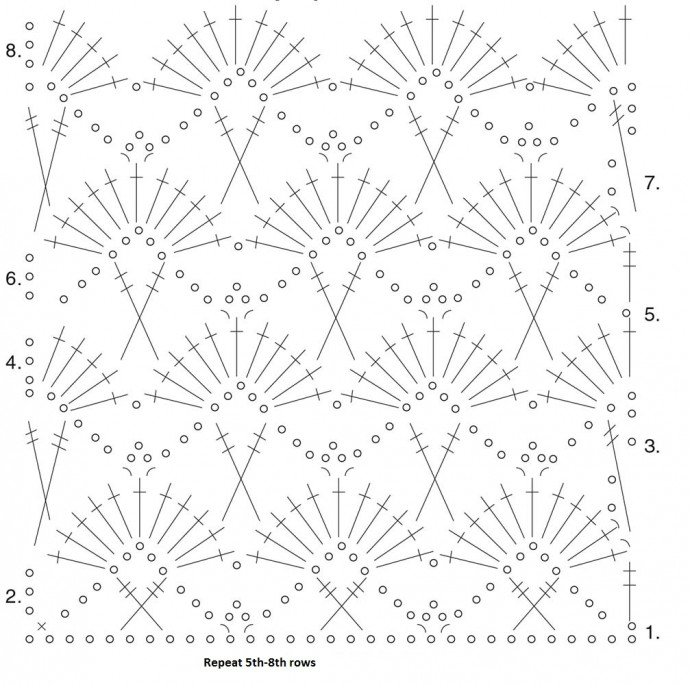 You'll need:
7 (8) 9 skeins of 100% alpaca wool yarn (127m/50g) in dark-grey color;
Crochet hooks 3,5 and 4.
Size: S/M (M/L) L/XL.
Chest circumference: 96 (112) 128 cm.
Length: 40 (42) 44 cm.
Stitches control: 2,5 pattern repeats in width x 2 pattern repeats in height = 10 x 10 cm.
Instructions
Back
Make 121 (141) 161 chain sts with crochet hook 4. Turn, work with the main pattern due to the scheme (1st row = WS row). When the length of the detail is 18 cm, make arm-holes. When the lefts of detail from mark is about 20 (22) 24 cm, finish with the 5th or 7th row and leave the central 2 pattern repeats open for neck-hole.
Front
For right half, continue work with main pattern and make mark in 20 (22) 24 cm for arm-hole. After crocheting 18 cm from mark, finish with the 5th or 7th row. Make left half in the same way, as right half.
Edge Fastening
Make along edges of arm-holes, front edge of right front, back neck-hole and front edge of left front due to the scheme with crochet hook 3,5 (the quantity of sts is multiple 12 + 9). Fasten your work with single crochets before you start lace fastening = about 8 single crochets for every pattern repeat, 5 single crochets for back neck-hole from each side around every chain and 1 single crochet in every picot. Then, make 1 row of double crochets = 1 double crochet in every single crochet. Continue making fastening due to the scheme.
Assembly
Make side seams.
Lower Edge Fastening
Work with crochet hook 3,5. Make fans of 11 double crochets and 1 chain st between fans. Start with 1 single crochet and make 1st fan at lower edge of front, then, make fans along lower edge of work at the same distance, as fans in the main pattern and finish with the last fan at lower edge of the second front.