​Black Crochet Hat with Flower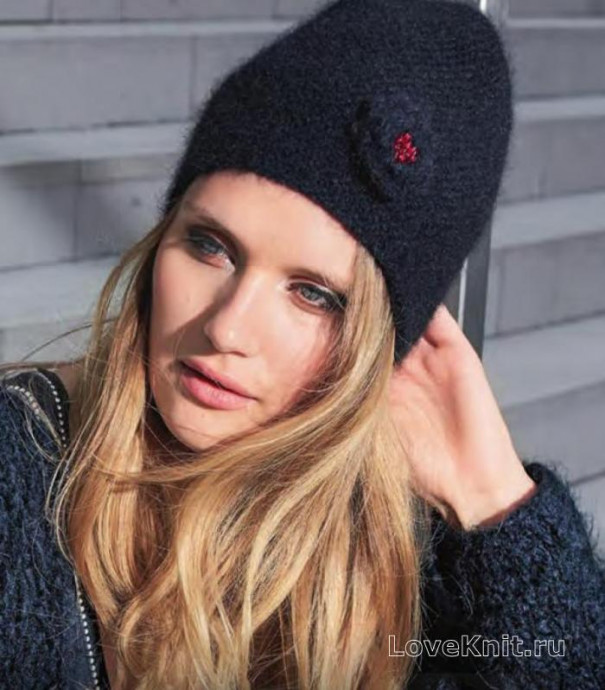 You'll need:
50g of black (#14) Silkhair Lana Grossa yarn (70% mohair, 30% silk; 210m/25g);
Crochet hooks 3 and 6;
30 small red beads.
Size: hat circumference: 49-53 cm, height – 26 cm.
Stitches control: 17 sts x 23 rows = 10 x 10 cm.
Instructions
Make a ring in 2 threads of yarn. Start every circle row with 1 chain st increase and circle the row with 1 slip st in chain st increase.
1st row: 8 chain sts in the ring;
2nd row: double every st (16 sts);
3rd row: double every 3rd st (21 sts);
4th row: double every 4th st (26 sts).
Continue work this way until every 14th row is increased in the 14th row = 77 sts. From the 15th circle row, crochet in spiral. Make 45 circle rows. In 60 circle rows from the beginning, finish your work with 1 slip st.
Flower
Make 38 chain sts + 2 chain sts increase in 2 threads of yarn with crochet hook 3 and make 1 row of half crochets, make 1st half crochet in the 3rd st from the crochet hook = 38 half crochets. Turn your work with 2 chain sts increase and work in the following way: * make 1 half crochet in the next st, 4 double crochets, 1 half crochet, 1 slip st in the next st* = 19 petals. Cut the yarn, leave tail for sewing. Form a flower. Sew beads in the centers. Sew flower to hat at 6 cm distance from the edge of hat.