​Knit Melange Vest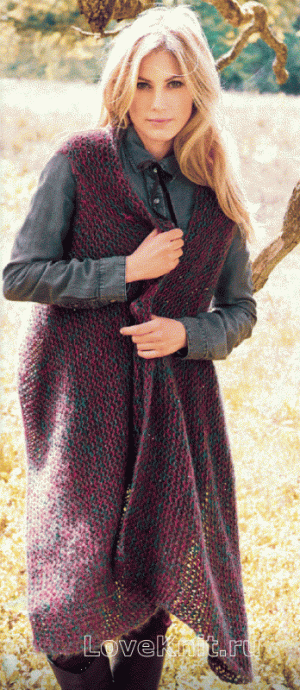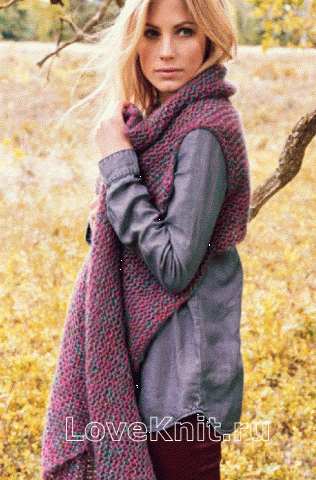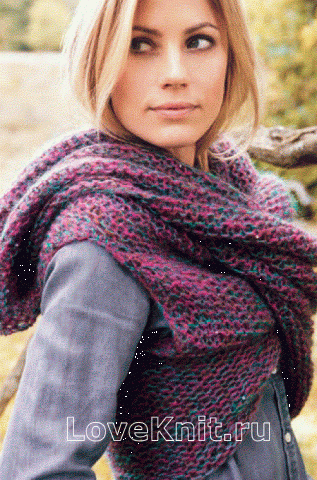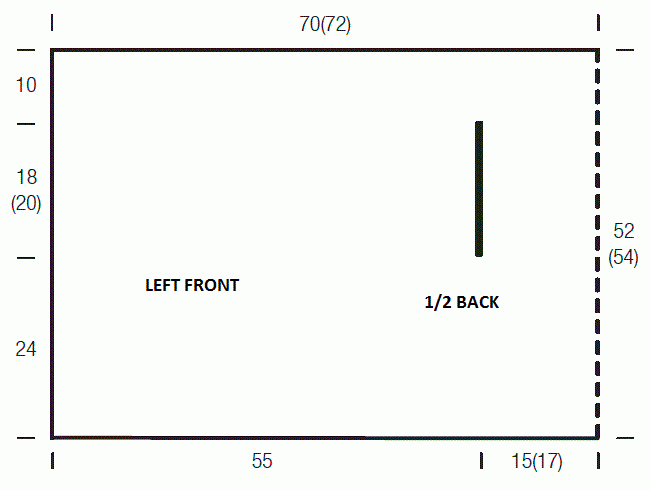 You'll need:
50 (75)g of turquoise-green (#22) Lana Grossa Silkhair yarn (70% mohair, 30% silk; 210m/25g);
50 (75)g of the same yarn, but in red-brown (# 77) color;
75 (100)g of pink (# 19) Lana Grossa Lace Paillettes yarn (45% alpaca, 20% sheep wool, 15% polyamide, 15% cotton, 5% polyester 150m/25g);
Circular knitting needles 9 120 cm long;
Crochet hook 8.
Size: S (M).
Used Patterns
Knotted edge: slip the 1st st of every row as knit st, make the last st of every row as knit st. Make all the details with knotted edge.
Garter stitch: knit sts.
Note: work in 3 threads of yarn, connect 1 thread of each type of yarn.
Stitches control: 9,5 sts x 16 rows = 10 x 10 cm.
Instructions
Back and Front
Make as one-piece cloth. Cast on 134 (138) sts in 3 threads of yarn with circular knitting needles and work with garter stitch with knotted edge. In 24 cm = 38 rows from the set-up row, divide your work into 3 parts. At first, make back on the central 28 (32) sts, leave 53 sts from each side for front. In 18 (20) cm = 30 (32) rows from dividing sts of back, leave sts of back as for front. Then, work on all 134 (138) sts as one-piece cloth. Bind off sts loosely in 10 cm = 16 rows.
Assembly
Weave in ends. Fasten arm-hole with 1 circle row of single crochets.