Crochet Skirt with Motifs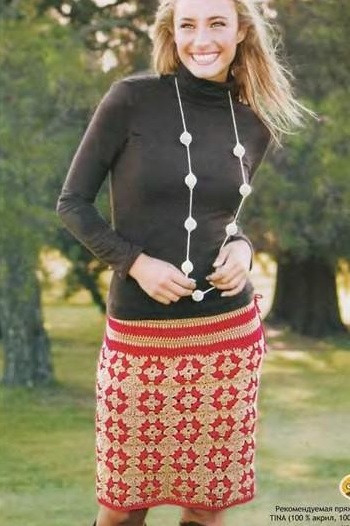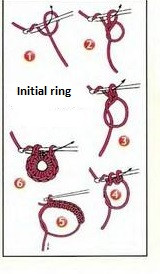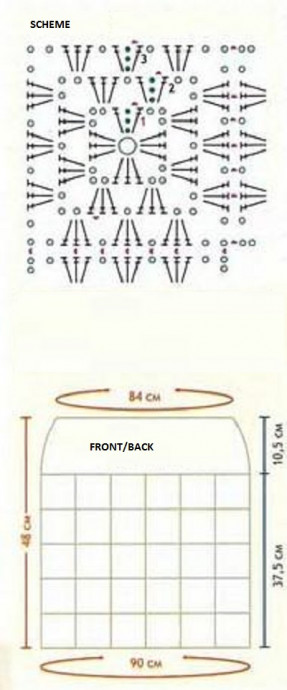 You'll need:
220g of thin 100% acryl yarn in sandy color;
160g of the same yarn, but in red color;
Crochet hooks 2 and 2,5;
Zipper 10 cm long in red color.
Size: M.
Stitches control: 17 double crochets = 10 cm;
Motif = 7,5 x 7,5 cm.
Note: work in 2 threads of yarn.
Make front and back as one-piece detail, which consists of upper and lower parts.
Instructions
Lower Part
Make 60 motifs due to the scheme. Make initial ring for every motif with sandy yarn and crochet hook 2,5 and work due to the scheme, circle every row with slip st. Make the 2nd row with red yarn and 3rd row with sandy yarn. Connect motifs between one another in the process of making the last row.
Upper Part
Connect all the motifs, lift 156 sts along the upper edge with red yarn and crochet hook 2 and make double crochets, leave cut for zipper and alternate 2 red rows and 2 sandy rows to the end of work. At the same time, decrease 2 x 7 sts in every 2nd row = 142 sts. Finish your work in 10,5 cm. Total height is about 48 cm.
Assembly
Sew zipper. Make cord with red yarn and insert it in chain sts of the last row. Fasten the lower edge of skirt with 1 row of double crochets.