​Mint and Grey Crochet Scarf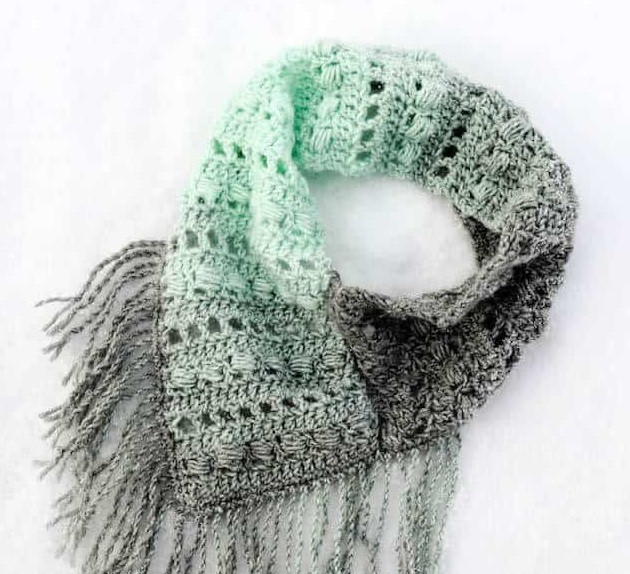 You'll need:
215 yards of Lion Brand Scarfie Yarn on Mint/Silver color;
Crochet hook 6 mm;
Scissors;
Yarn needle.
Size: 30" x 6,25".
Used Patterns
Bead pattern: *YO, insert hook around post of previous st, YO, pull up a loop, repeat from * 3 more times, YO, pull through all loops on the hook.
Stitches control: 6 sts x 3 rows = 2" x 2".
Instructions
ch 22
Row 1: DC in the fourth ch from the hook and DC across (19). Turn.
Row 2: ch 3, *DC in two stitches, bead st around the post of the previous DC, sk 1, repeat 5 more times across, DC in the last st of the row (19). Turn.
Row 3: ch 3, DC across (19). Turn
Row 4: ch 3, DC, *ch 1, sk 1, DC repeat from * across (19). Turn.
Row 5: ch 3, DC across (19). Turn
Rows 6-45: Repeat Rows 2-5
At the end of Row 45, tie off your yarn leaving a long tail. Fold your scarf as pictured in Fig. 1. Use a yarn needle and the tail to sew Row 45 to the edge indicated. Attach yarn to the outer edge of the scarf. ch 1 and SC along the outer edge. Tie off yarn and weave in ends.
Make and attach fringe as desired.