​Short Light-Blue Pullover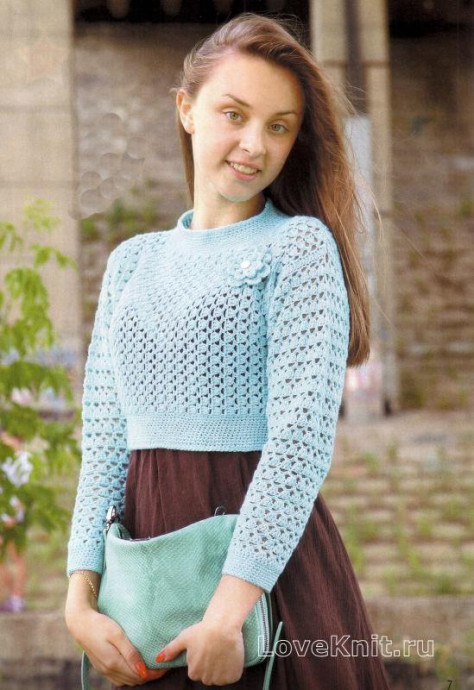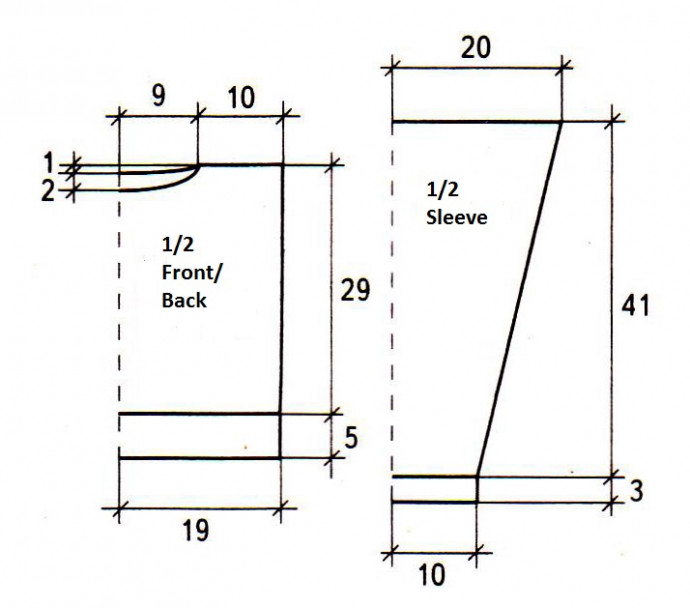 You'll need:
200g of light-blue Kapriz yarn (60% merino wool, 40% microfiber; 225m/50g);
Crochet hook 2,5;
1 button.
Size: S.
Instructions
Back
Make 62 chain sts and work due to the scheme 1, make 1st-4th rows x once, then, repeat 3rd-4th rows. In 10 cm from neck-hole, decrease 1 cm and continue crochet straight for 18 cm. Then, increase 1 cm from the same side and crochet straight for 10 cm. Finish your work.
Front
Make in the same way, as back, but with deeper neck-hole. For this, make decrease and increase for 3 cm.
Sleeves
Make shoulder seams. Make sleeve due to the scheme 1, 1st row is front and back. Start your work with the 2nd row of pattern. For sleeve chamfers, decrease 0,5 cm in every 7 rows. In 41 cm from the beginning of sleeves, finish your work.
Assembly
Make the rest seams. Fasten the bottom of sleeves with 3 cm of single crochets, the bottom of pullover with 5 cm of single crochets, neck-hole – with 4 cm of single crochets.
Make details of flower due to the schemes 2 and 3, sew them between each other in the center, sew flower to pullover. Sew button in the center of flower.