Crochet A Baby Hat For Newborns To Toddlers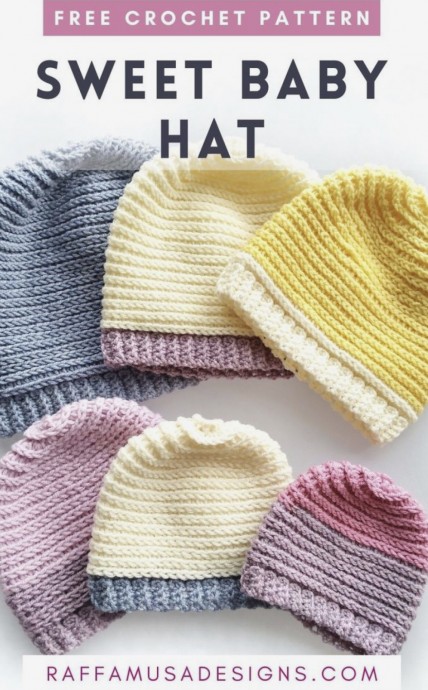 Hey my friends. Let's sit back and crochet these sweet baby hats for our expected August visitors, our bundles of joy. I love everything newborn and so, I am extremely happy to share the tutorial for these Baby hats. You can DIY and not only acquire a new pattern but also get these lovely hats in the process. So everyone in the house, open the tutorial and take a walk through it for your own special and custom made baby hats!
Materials needed:
Sport (2, Fine) Weight Yarn
3.5-mm (E/4 USA, 9 UK) Hook
4-mm (G/6 USA, 8 UK) Hook
One Stitch Marker to Work in the Round
Tapestry Needle

Lisa
Make a Cactus Flower Granny Square
19 hours ago
I don't understand the directions.  Could you plea...

Clare
NEW TO CROCHET....REQUESTING HELP
1 day ago
I make a tension square approximately 6"x 6" 15cm ...

Phyllis
Cozy Rag Rug
1 day ago
Where is the pattern?

Valerie
Make a Traveling Afghan Crochet Sampler Square
3 days ago
I am having gone down the page and am unable to fi...

Christine
DIY Candy Corn Amigurumi
4 days ago
Adorable 🧡💛🎃

Darlene
DIY Dragon Amigurumi
4 days ago
I found out how to download it. It was confusing a...

Darlene Estlow
DIY Dragon Amigurumi
4 days ago
I purchased the dragon crochet pattern a few minut...

TC
Little Baby Girl with Red Hairpin Amigurumi
7 days ago
Thanks you.  My great-grand-girls will love this d...

Margaretha Amrén
Patterns Slippers So pretty, creative & sweet!
7 days ago
Plebsen send me the complete instruktions via emai...

Ollie
Easy Crochet Wrap
11 days ago
Thank you for the pattern.