​White Crochet Dress with Squares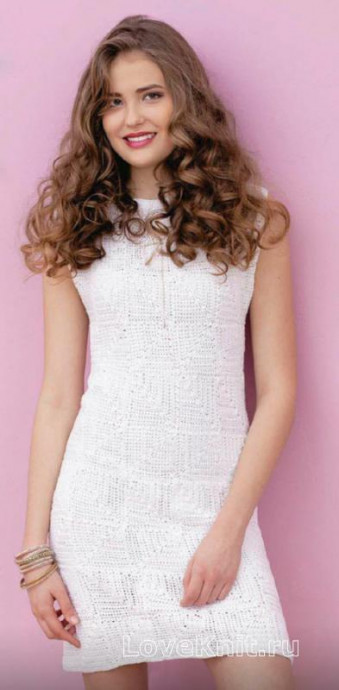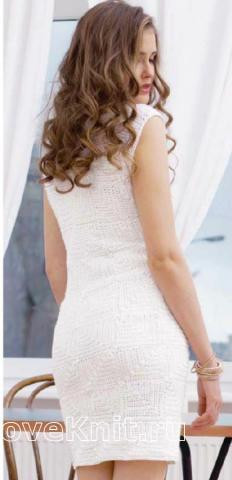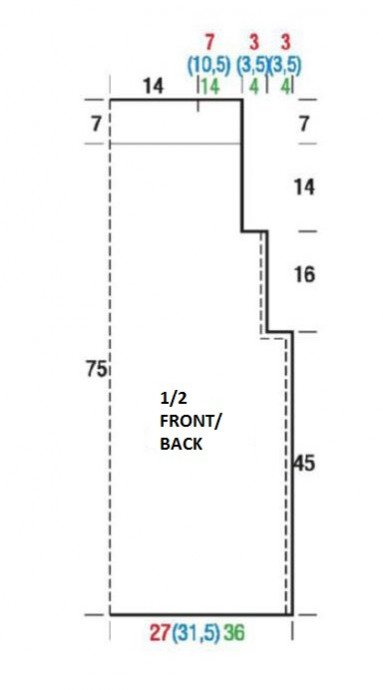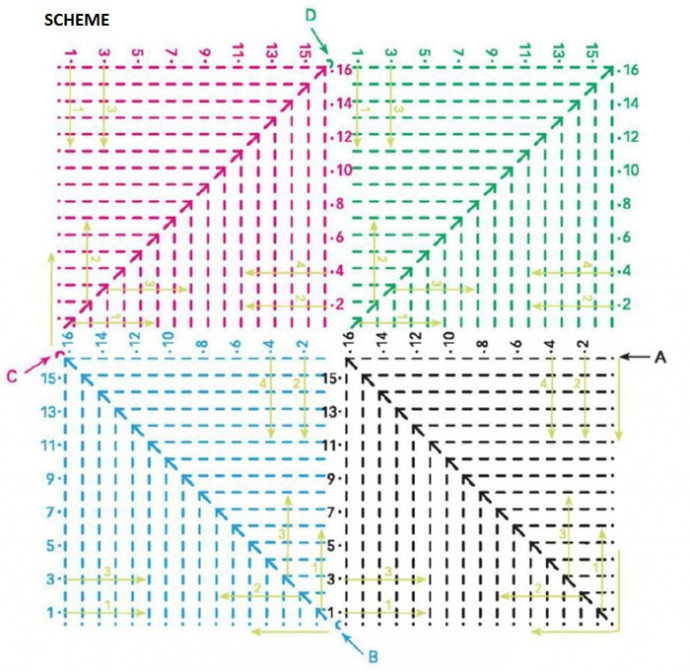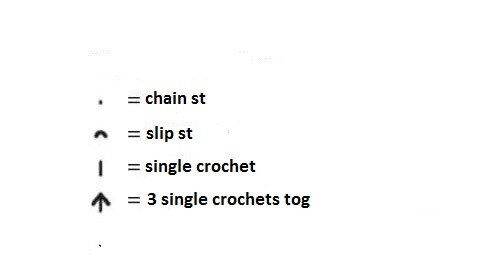 You'll need:
700 (800) 900g of white yarn (58% viscose, 42% cotton; 115m/50g);
Crochet hook 5.
Size: S (M) L.
Used Patterns
Main pattern: front post single crochet. Start every row with 1 chain st increase and finish with 1 single crochet in the 1st single crochet of the previous row.
Square pattern: for the 1st square, starting at arrow A, make 33 chain sts + 1 chain st increase and work due to the scheme for 16 rows in straight and reversed directions (front post crochets).
For the 2nd square, join the yarn at arrow B in the corner of the 1st square and make 16 chain sts. Turn your work and for the 1st row fasten chain sts and continue work in straight and reversed order. Make all the next squares in the same way for the 1st stripe of squares. For the 2nd stripe of squares, join the yarn at left upper corner of the last square of the 1st stripe (arrow C) and continue work in the following way.
Stitches control: square 16 sts side: 9 x 9 cm;
square 15 sts side: 8 x 8 cm;
square 14 sts side: 7 x 7 cm.
Instructions
Make 33 chain sts + 1 chain st increase and make squares in stripe of 12 (14) 16 squares. Make 5 stripes of squares in height. Then, continue work with squares, but 15 sts x 15 rows, for this, make 1 x 2 sts together in the 1st row. In 7 stripes of squares = 61 cm from the set-up row, divide your work in 2 halves of 6 (7) 8 squares and make 2 stripes of squares on 14 sts x 14 rows. In 9 stripes of squares = 75 cm from the set-up row, make 7 cm of main pattern for placket and finish your work.
Assembly
Make shoulder seams from both sides, leave the central 28 cm open for neck-hole. Make 7 stripes of squares = 61 cm for side seam. Fasten the edge of arm-hole with 1 circle row of single crochets and slip sts.