​Rainbow Crochet Tunic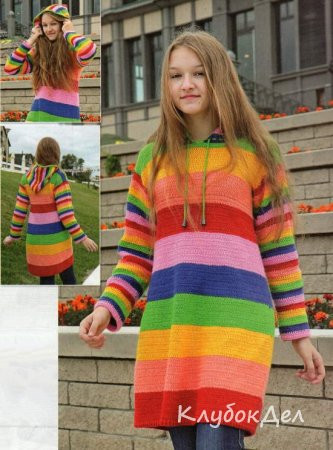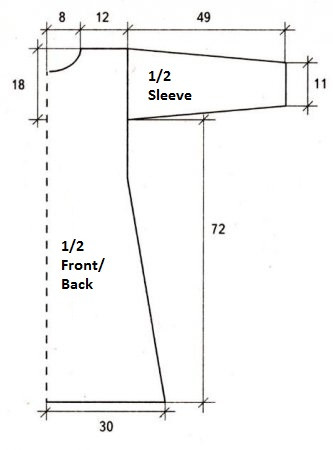 You'll need:
250g of yarn (50% wool, 50% fiber; 225m/50g) in red color;
200g of the same yarn, but in orange color;
150g of the same yarn, but in blue, green, yellow, pink colors (each);
Crochet hook 3.
Note: work in 2 threads of yarn.
Used Patterns
1 x 1 rib: *1 RS double crochet, 1 WS double crochet*.
Size: S.
Instructions
Make a chain of 120 cm long and circle it in the ring. Make 3 rnds of rib, 8 rows of double crochets with straight and reversed rows. Then, make 8 rows with orange yarn (all the stripes of the main pattern will consist of 8 rows).
Make 8 decreases in yellow stripe (by means of making knit2tog), make the same decreases with green, blue and pink yarn. Then, crochet straight, without decreases with red and orange yarn.
Divide your work in half for back and front.
Back
Make 8 yellow rows, 8 green rows, 2 blue rows.
Front
Make 8 yellow rows, 2 green rows. For neck-hole, leave the central 16 cm open. Make 1 decrease in the next rows for smooth rounding. Make 6 green rows and 2 blue rows.
Sleeves
Make chain sts along the arm-hole line and crochet around, alternate the colors of yarn every 2 rows. Totally, 46 rows.
Hood
Make chain sts with blue yarn and crochet along the neck-hole. Work with straight and reversed rows: 1st row: double crochets;
2nd row: * 1 double crochet, 1 chain st*;
3rd row: with blue yarn: double crochets.
Then, crochet 27 rows straight, alternate the colors every 2 rows. Make 1 seam. Fasten the hood with 1 row of single crochets. Make a cord of chain sst with green yarn.