​Crochet Baby Sneakers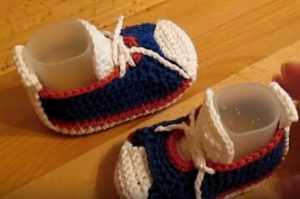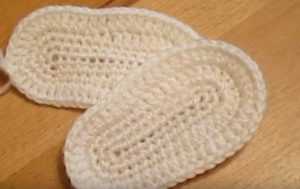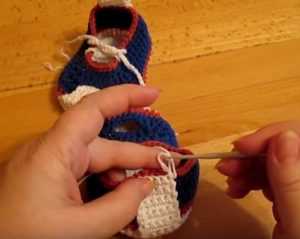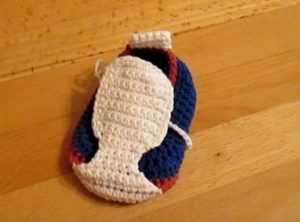 At first, crochet the sole. Cast on 12 ps and make oval detail from 4 circle rows
The work goes to the edge rows, for this they are hooked onto the back side of the base, and vertical sides are obtained. Make1 BP dc, then one red one and makes a smooth transition to blue.
Advice for beginners! To change the thread was neat and invisible, the last two sts on the hook are crocheted with a yarn of a new color.
Count 12 sts from the center of the shoe tip on both sides, then make a smooth reduction of 3 sts to the left and right of the central st.
On the nose of the shoe, 5 sts are not knitted, and instead of them make 5 ps, which form the desired hole. With a blue yarn, make 5 circular rows, and crochet a cantina with a bright red thread.
Use 7 base sts for crochetting the rear tongue. Those with free front are taken.
The slipper is made to the desired height in straight and reverse rows, connected to the sts of the red row, bent and fixed with a needle with a working thread.
Similarly, the rear part in front fits a slipper 10 sts from the base.
A curly piece is knitted and passed into the hole that formed in the first blue row.
Weave all the ends.