​One Hour Knit Fingerless Gloves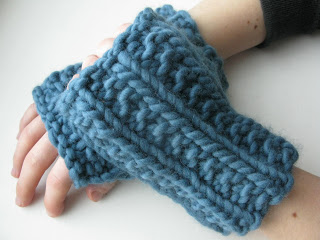 Yarn: One ball Debbie Bliss Como = 42m
Needles: 10mm / US 15 needles
Gauge: 10 stitches = 4'' in stocking stitch
Size: One size, 15cm x 20cm circumference
Notation:
k = knit
p = purl
CO = cast on
Directions:
Mitts (Makes 2):
Tip: I knitted both mitts at the same time using yarn from the outside and from the centre of the ball of yarn so that I could get them as long as possible with one skein. Feel free not to do this though!
CO 19 stitches. Work every row as follows:
k1 p1 *k2 p1* to last two stitches, k2.
When mitts are 15cm long (or as long as desired) bind off. Sew the two edges together leaving a hole for the thumb. Weave in loose ends.