Crotchet A long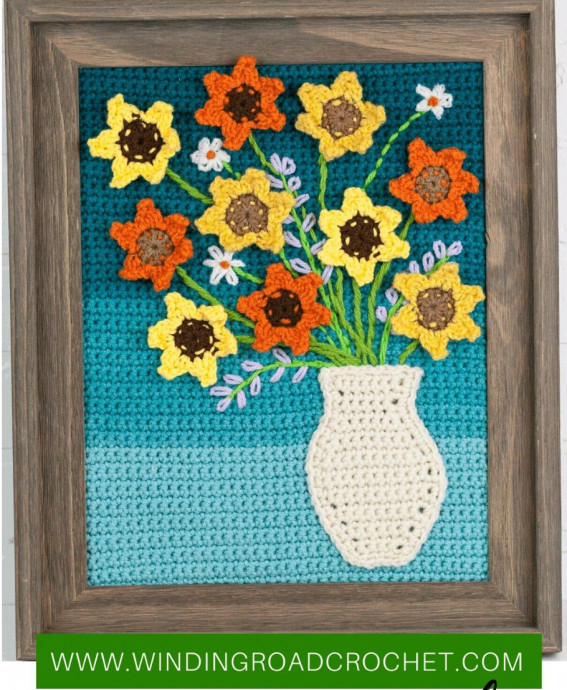 Have you long desired to bring some life into that house? Acquire this colorful crotchet tapestry and have it placed at a strategic place so that it beautifies the room in the best way possible. Depending on the color of your furniture and walls you have the liberty to choose which colors to work with. Do not even worry about how much it costs because you can make your own this very moment using colors of your choice. Let us make this masterpiece together.
Materials needed:
*Yarn – Worsted Weight – 300 yds
-Red Heart Super Saver Ombre Deep Teal – Used to the sunflower background.
-Red Heart Super Saver Stripes Fruity Stripes – Used to create the sunrise in the cactus painting window.
–Other Colors for the Sunflower painting include: 3 green tones, an orange, a gold, a cream tone for the case, one yellow tone that was a cotton yarn, light purple, and white. (Feel free to mix up the color to create your own masterpiece).
-Other Colors for the Cactus Painting include: Cream and Tan for walls, Teal for the rug, brown for the window frame, gold, orange and grey for plant pots, 3 green tones for cacti, heather grey for the floor, and hot pink for cactus flowers.
Other Craft Supplies Used
*11″x14″ Picture Frame – Optional, but if you want to use one, make sure you have it before you start the project.
* Crochet Hook, Size H, 5.0mm or a hook to reach gauge.
* Yarn Needle.
*Embroidery Needles.
*Embroidery Floss – Used for the spines on the cactus.
*Straight Pins – Used for pinning pieces in place.
*Hot Glue Gun and Hot Glue – Optional – We will use this to secure the finished painting to the picture frame backing.
*Scissors
*Measuring Tape – This will help you determine if your background is the right size.