Crochet Long Vest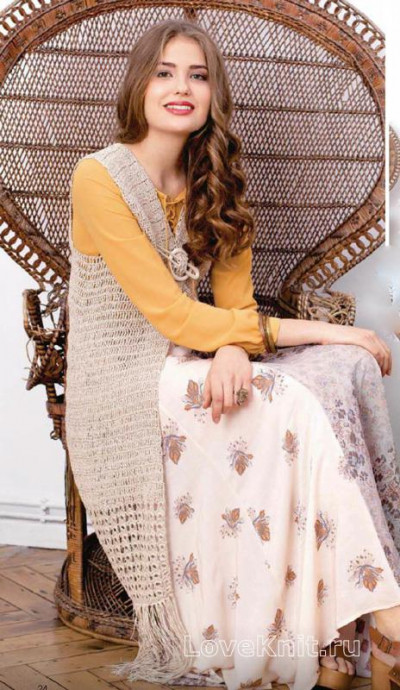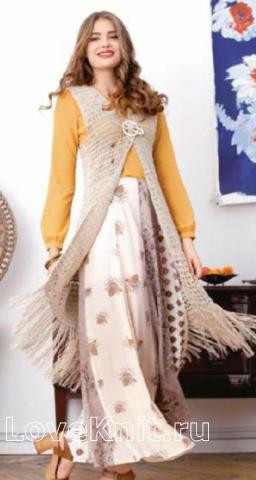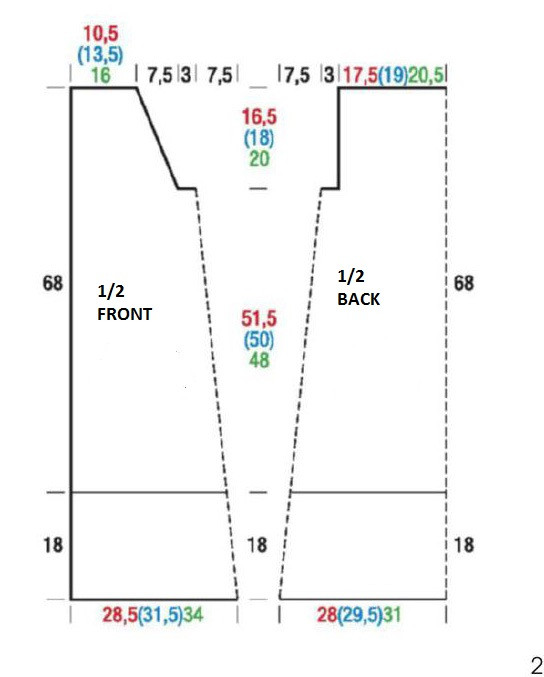 You'll need:
600 (650) 650g of beige yarn (75% cotton, 25% viscose);
Crochet hook 4;
Auxiliary needle;
Ivory color buckle;
Ivory color pin.
Size: S (M) L.
Used Patterns
Main pattern: treble crochets. Start every row with 4 chain sts increase instead of the 1st treble crochet and finish with 1 treble crochet in the last chain st increase of the previous row.
Broomstick pattern: the quantity of set-up row is multiple 5 +2.
1st row: 1 chain st increase, then work with single crochets;
2nd row: don't turn your work, crochet from left to right, 3 chain sts increase from every single crochet of the previous row, draw st, transfer to auxiliary needle, finish with 1 double crochet;
3rd row: 3 chain sts, * 5 sts from the auxiliary needle with the help of 5 single crochets*; repeat from * to *, 1 double crochet.
Make 1st-3rd rows x once, then, repeat 2nd-3rd rows.
Stitches control: main pattern: 18,5 sts x 6 rows = 10 x 10 cm;
Broomstick pattern: 23 sts x 11,5 rows = 10 x 10 cm.
Instructions
Make 262 (282) 302 chain sts + 1 chain st increase and work with broomstick pattern. In 18 cm = 21 rows from the set-up row, continue work with main pattern, make 4 treble crochets + initial and final st in every pattern repeat of the 1st row = 210 (226) 242 sts. At first, mark sts for back and front and draw mark with work: 53 (58) 63 sts of left front, 104 (110) 116 sts of back, 53 (58) 63 sts of right front. Decrease 14 x 4 sts in every 2nd row for side chamfer in every 2nd row from patterns change. For this, make 2 double crochets together before and after marks.