​Knit Pullover-Poncho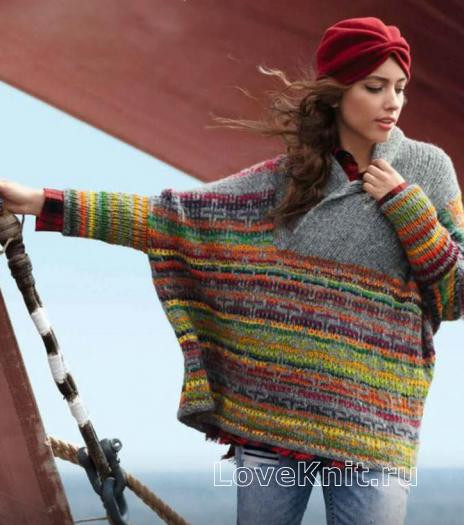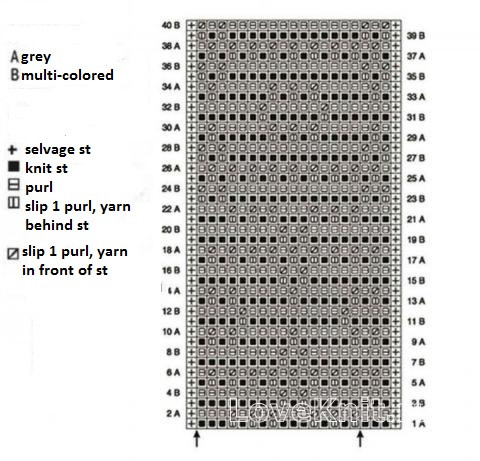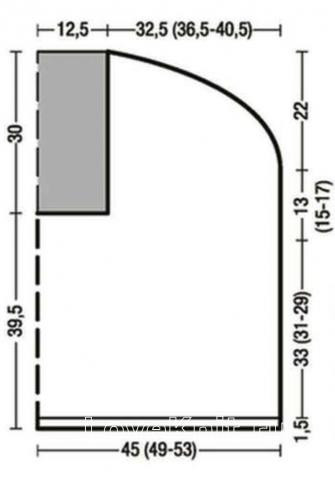 You'll need:
450 (500) 550g of multi-colored sectional color yarn (100% sheep wool; 110m/50g);
250 (300) 350g of grey yarn (72% alpaca wool, 16% polyamide, 12% sheep wool; 190m/50g);
Knitting needles 5;
Circular knitting needles 5 (100 cm long).
Size: S (M-L) XL-2XL.
Used Patterns
1 x 1 rib.
Pearl pattern: * 1 knit st, 1 purl*; replace st in every row.
Pattern of slipped sts: work due to the scheme. Start with 4 sts before the 1st arrow, pattern repeat of 16 sts between arrows, finish with st after the 2nd arrow. Repeat 1st-40th rows in height.
Stripes order: * 2 grey stripes, 4 multi-colored stripes*.
Stitches control: 20 sts x 34 rows = 10 x 10 cm.
Instructions
Back
Make 181 (197) 213 sts with grey yarn and make 1,5 cm = 3 rows of pearl pattern for lower placket, start with WS row. Continue work with multi-colored yarn and make 1 WS row of purls. Then, work with pattern of slipped sts. In 33 (31) 29 cm = 113 (106) 99 rows from lower placket, make marks for arm-holes from both sides. In 13 (15) 17 cm = 44 (51) 58 rows from marks or in 46 cm = 157 rows from lower placket, bind off 1 x 1 st from both sides for shoulder chamfers, then, bind off 8 x 1 st in every 2nd row, 28 (20) 12 x 2 sts and 0 (8) 16 x 3 sts. In 22 cm = 74 rows from the beginning of chamfers, bind off the rest 51 sts.
Front
Make in the same way, as back, but leave the central 51 sts for collar in 38 cm = 129 rows from lower placket and finish right side. In 8 cm = 28 rows from the previously left central sts or in 46 cm = 157 rows from lower placket, make shoulder chamfers from the right side in the same way, as for back. Make the second half in symmetry.
Assembly
Transfer the previously left 51 sts of front to the knitting needles and make collar with grey yarn, start with RS row and 1 knit st after selvage st. In 85 cm, bind off sts and sew collar to the inner side. Make shoulder seams. Sew up collar in neck-hole. For sleeves, cast on 47 (530 59 sts with grey yarn, and starting wuth WS row and 1 knit st after selvage st, work with rib. In 20 cm = 48 rows from the set-up row, bind off sts. Sew up the sleeve between the marks of arm-holes. Make sleeve and side seams.