​Knit Pullover with Big Collar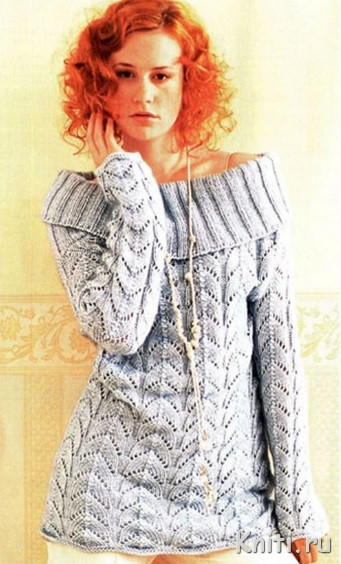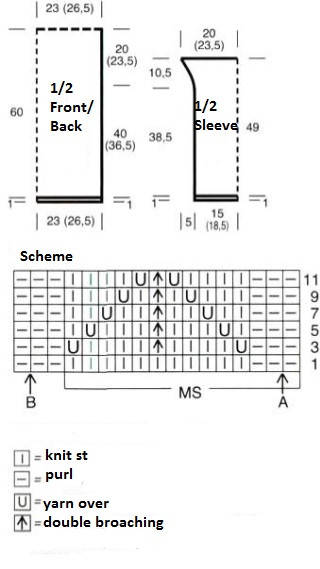 You'll need:
800g of grey-blue Songe yarn (70% viscose, 20% royal mohair, 10% polyamide; 191m/50g);
Straight knitting needles 5 and 5,5;
Circular knitting needles 5 and 6.
Size: S (M).
Note: work in 2 threads of yarn.
Used Patterns
Garter stitch, knitting needles 5: knit;
Relief pattern, knitting needles 5,5: the quantity of sts is multiple 14 + 3 + 2 selvage sts. Work due to the scheme, on which only RS rows are stated. Make WS rows due to the pattern, yarn overs – as purls. Start with 1 selvage st and st before pattern repeat, pattern repeat, finish with sts after pattern repeat and 1 selvage st. Make 1st-12th rows x once, then, repeat 3rd-12th rows.
Stockinette stitch, rnds: knit;
3 x 3 rib.
Stitches control: 19,5 sts x 27 rows = 10 x 10 cm.
Instructions
Back/Front
Cast on 89 (103) sts and make 1 cm = 3 rows of garter stitch for placket, start with 1 WS row. Then, work with relief pattern. In 60 cm = 162 rows from the placket, leave the sts.
Sleeves
Cast on 59 (73) sts and make placket in the same way, as for back. Then, work with relief pattern. Start with 1 selvage st and sts from arrow A, pattern repeat x 3 (4) times, finish with sts before arrow B and 1 selvage st. For chamfers, increase 3 x 1 st in every 4th row from both sides in 38,5 cm = 104 rows from placket and 7 x 1 st in every 2nd row, include the increased sts in the pattern = 79 (93) sts. In 49 cm = 132 rows from placket, bind off the sts due to the pattern.
Assembly
Sew up the sleeves, leave the central st (2 central sts) open. Transfer the previously left 178 (206) sts of front and back to the circular knitting needles 5 and add 1 (2) central sts of sleeves = 180 (210) sts. Then, make 2 rnds of stockinette stitch and continue work with rib. In 30 cm from the beginning of collar, bind off all the sts loosely due to the pattern. Make side and sleeve seams.