Peppermint the Polar Bear Amigurumi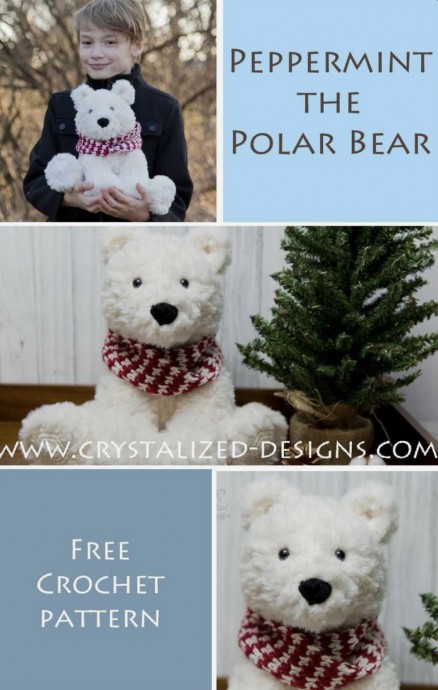 Aww, Peppermint the Polar Bear is just too cute. Look at how fluffy and soft he is. This is for my amigurumi lovers, let's get our yarns and hooks and make this bear for our kids. Yeah, Peppermint is a great toy for kids, a wonderful companion. He will also be perfect for your home interior, making it full of warmth and love.
Materials needed:
Yarn
Hook: 3.75 and 8.00mm
Poly-Fil or Fiberfill
2 -12mm Black Plastic Safety Eyes (Brown Iris)
Scissors
Stitch Marker
Yarn Needle
Measuring Tape
Optional: Felt or Safety Nose

Lisa
Make a Cactus Flower Granny Square
4 hours ago
I don't understand the directions.  Could you plea...

Clare
NEW TO CROCHET....REQUESTING HELP
12 hours ago
I make a tension square approximately 6"x 6" 15cm ...

Phyllis
Cozy Rag Rug
1 day ago
Where is the pattern?

Valerie
Make a Traveling Afghan Crochet Sampler Square
2 days ago
I am having gone down the page and am unable to fi...

Christine
DIY Candy Corn Amigurumi
3 days ago
Adorable 🧡💛🎃

Darlene
DIY Dragon Amigurumi
4 days ago
I found out how to download it. It was confusing a...

Darlene Estlow
DIY Dragon Amigurumi
4 days ago
I purchased the dragon crochet pattern a few minut...

TC
Little Baby Girl with Red Hairpin Amigurumi
6 days ago
Thanks you.  My great-grand-girls will love this d...

Margaretha Amrén
Patterns Slippers So pretty, creative & sweet!
6 days ago
Plebsen send me the complete instruktions via emai...

Ollie
Easy Crochet Wrap
11 days ago
Thank you for the pattern.