​Travel Knit Scarf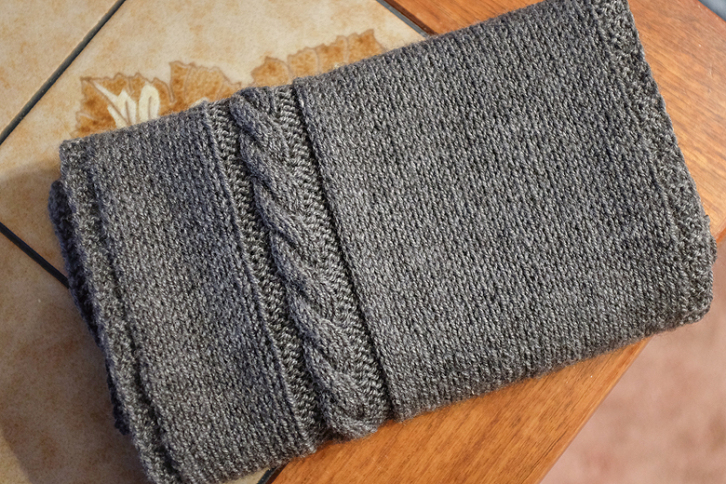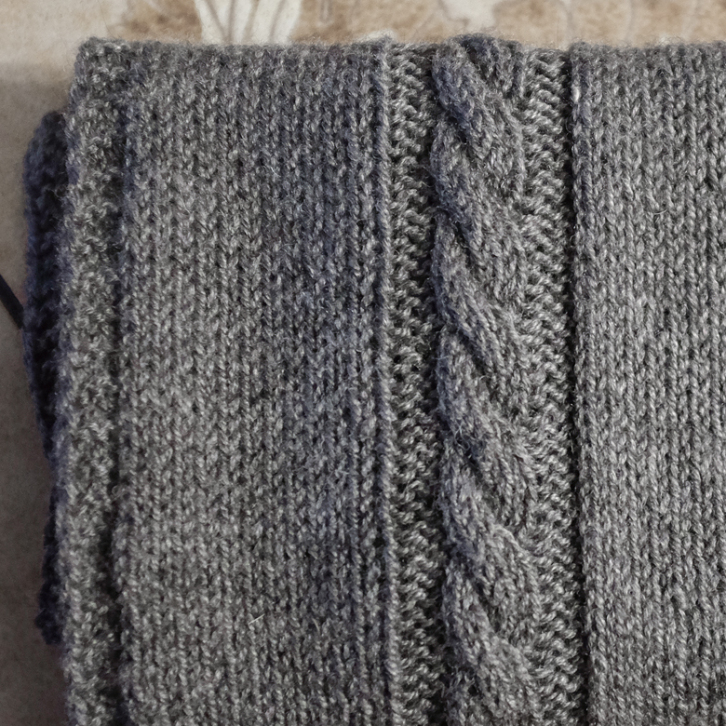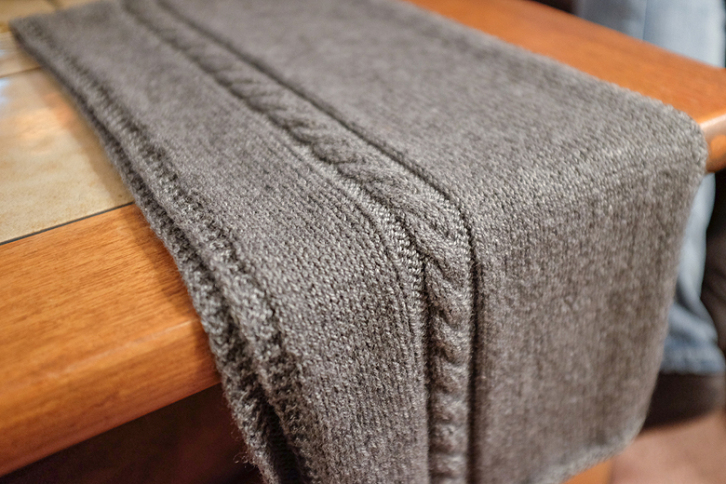 You will need:
3.5 mm needles (I'm using wooden 16" circular needles per my point above)
200g of sport weight yarn (approximately 400 yards)
Tapestry needle for weaving in ends
4 stitch markers (Optional. The knitting will be very easy to read.)
Cable needle (Optional. I cabled without a needle for this project, here's a great tutorial)
Gauge: It's a scarf. Live a little.
Note: Work the 'Slip 1' instructions at the beginning of each row as follows:
Slip one as if to purl with yarn in front. Move the yarn to the back of the work and continue in pattern.
Cast on 62
Garter stitch edging:
Rows 1-4: Slip 1, knit to end
Begin Cable section:
Row 1 & 3 (RS) Slip 1, k3, pm, k30, pm, p3, k6, p3, pm k12, pm, k4
Row 2, 4 & 6 (WS) Slip 1, k3, sm, p12, sm, k3, p6, k3, sm p30, sm, k4
Row 5 (RS) Slip 1, k3, sm, k30, sm, p3, C6F, p1tbl, p2, sm k12, sm, k4
Work rows 1 – 6 until you only have a few yards left.
Repeat Garter stitch edging:
Rows 1-4: Slip 1, knit to end
Bind off loosely
To really get all that stockinette to lay nice and flat I soaked it (in Soak, of course) for about 20 minutes to really saturate the fiber and then used blocking wires (see photos) to open the piece up.
Finished dimensions: About 12 inches wide (may vary because of my lackadaisical attitude towards gauge in this case) by about 50 inches long.
Abbreviations:
k – Knit
p – Purl
p1tbl – Purl 1 through the back loop.
pm – Place Marker
sm – Slip Marker
Slip 1 – Slip one as if to purl with yarn in front. Move the yarn to the back of the work and continue in pattern
C6F: Cable 6 front: Slip 3 stitches to cable needle and hold in front, K3 and then K3 from cable needle