​Relief Crochet Pullover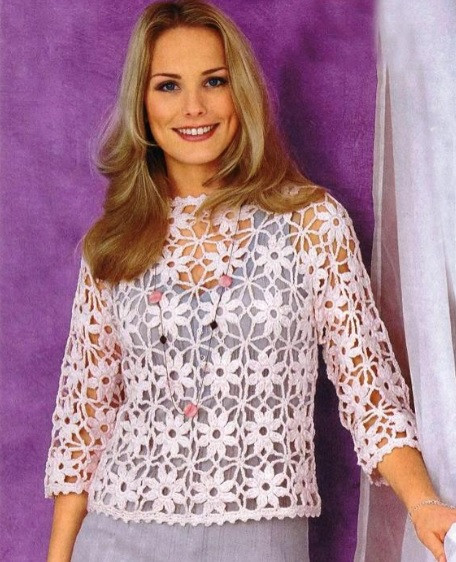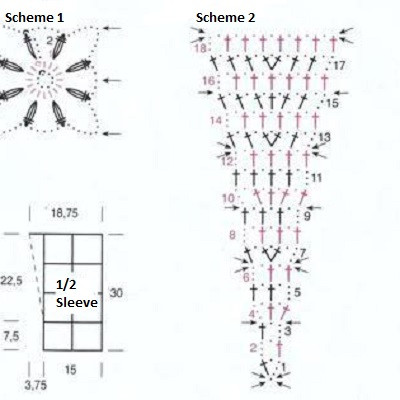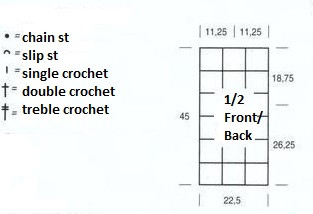 You'll need:
500g of pink Clip yarn (100% cotton; 166m/50g);
Crochet hook 3,5 and 4.
Size: S.
Used Patterns
Square: make 8 chain sts and circle them in the ring with 1 slip st. Then, work due to the scheme 1.
Main pattern: due to the scheme 2. Make 1st-18th rows x once.
Fringe: 1st row: single crochets;
2nd row: * 1 single crochet, 1 picot, skip 1 st, 1 single crochet*; repeat from * to *.
Stitches control: square = 7,5 x 7,5 cm.
Instructions
Back and Front
Make 12 squares and connect them in the stripe, circle it in the ring. Make 2 more circles of squares and connect them between each other. Then, make 3 stripes of 6 squares for upper part of back and join them to the main part due to the pattern design. Make upper part of front in the same way, making shoulder seams.
Sleeves
For sleeve gusset, 1 chain st, * 3 chain sts increase, make 22,5 cm = 18 rows with the main pattern and finish your work. For lower part of sleeve, make stripe of 4 squares and circle it in the ring, join the sharp edge of gusset. For upper part, make 3 stripes of 4 squares and join them to the gusset (2 arrows on the scheme show the connection of 2 corners of squares, 1 arrow – the connection of 1 central arch).
Sew up the sleeves.
Assembly
Fasten neck-hole, bottom edge of work and sleeves with fringe.