Helping our users. Crochet Bathroom Organizer.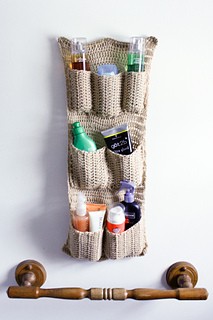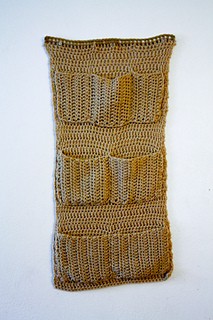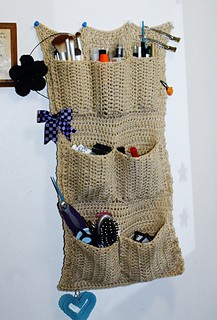 You'll need:
Red Heart Super Saver Solids yarn;
Crochet hook 6 mm.
Size: 22 in long x 9,5 in wide.
Instructions
Back Piece
Row 1: FSC 38
Row 2­40: DC in each across. (38)
Row 41: SC in each across. (38)
Tie off and weave in ends.
Pockets
Make 3.
CH 18
Row 1: DC in 2nd from hook, DC in each
across (16)
Rows 2­22: DC in each across. (16)
Assembly
Leave three rows between each pocket, and the top. Two on the bottom.
Sew it together one inch from each side, just sewing with yarn.
As you can see in the picture the first row has 3 pockets and the other 2 have only 2. But you can sew it however works for you.