DIY Wax Warmer Cubes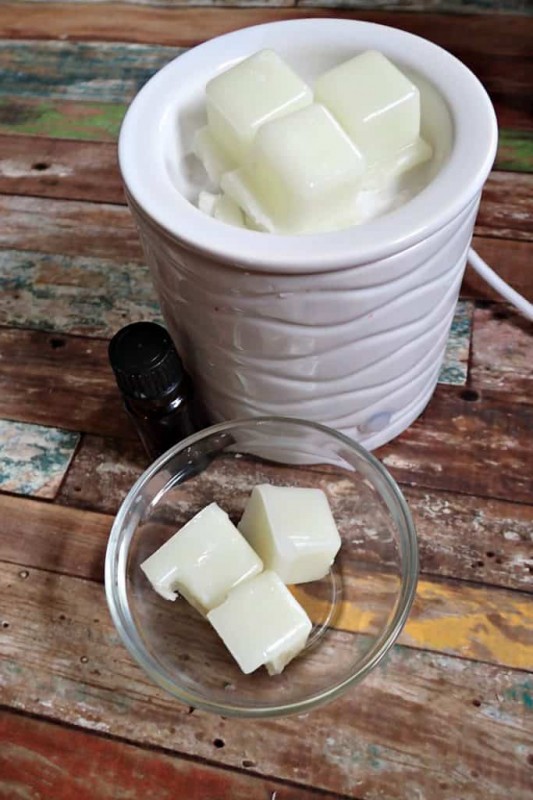 I purchased a few wax warmers years ago and immediately loved that you can leave them without worrying about fires. The scents were becoming a bit strong for me and the cost of the refills started to add up.
This recipe allows you to save money by making many more for your dollar. Plus, the scents are natural when you use essential oils. You can make your own scents for every season!
DIY Wax Warmer Cubes Supplies
2.5 oz, Choice Wax
10 drops, Essential Oils
1 Wax Cube Container (use a leftover container)
Small Glass Dish or Coffee Mug
DIY Wax Warmer Cubes Directions
Place wax into a small glass dish or coffee mug. This will clean out of your dish easy with a bit of hot water and a wipe down with a napkin or newspaper.
Place wax filled dish into the microwave for 1 minute. Mix well and place back into the microwave for another 30 seconds. Stir until fully melted.
Add 10 drops of your choice essential oils mixing well. Use a germ killing blend to help fight off cold and flu. Lavender is great for reducing stress and helping you sleep. You can add any oils you want.
Pour into your mold.
Let cool until solid. You can speed this up by placing in the freezer for about 30 minutes.
You now have your very own homemade wax warmer cubes! Store these in a mason jar and grab one when you want to refresh the room!