Caron Cakes On The Bias Crochet Scarf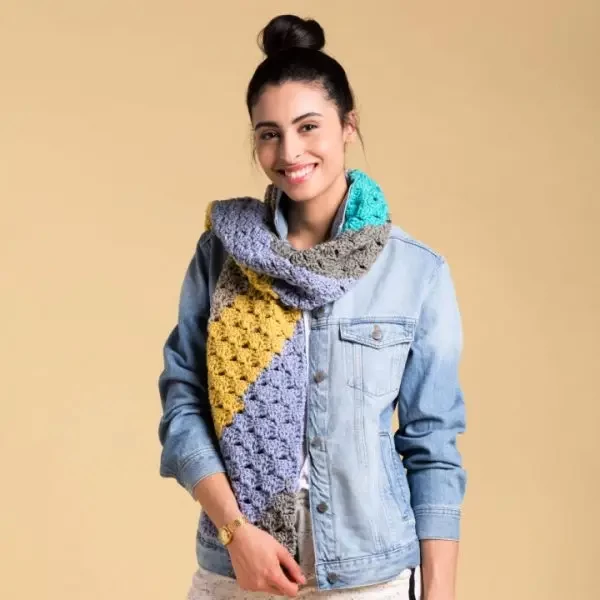 Geometric motifs are quite fashionable and fashionable. Take a peek at this wonderful pattern if you're seeking to add that mood to your outfit! In this design, single crochet, double crochet, and the increasing principle are employed - all novices should be familiar with these methods!
Materials (sizing of tools specified in link):
Yarn
Crochet hook
Scissors
Yarn needle
Tape measure

Lisa
Make a Cactus Flower Granny Square
4 hours ago
I don't understand the directions.  Could you plea...

Clare
NEW TO CROCHET....REQUESTING HELP
12 hours ago
I make a tension square approximately 6"x 6" 15cm ...

Phyllis
Cozy Rag Rug
1 day ago
Where is the pattern?

Valerie
Make a Traveling Afghan Crochet Sampler Square
2 days ago
I am having gone down the page and am unable to fi...

Christine
DIY Candy Corn Amigurumi
3 days ago
Adorable 🧡💛🎃

Darlene
DIY Dragon Amigurumi
4 days ago
I found out how to download it. It was confusing a...

Darlene Estlow
DIY Dragon Amigurumi
4 days ago
I purchased the dragon crochet pattern a few minut...

TC
Little Baby Girl with Red Hairpin Amigurumi
6 days ago
Thanks you.  My great-grand-girls will love this d...

Margaretha Amrén
Patterns Slippers So pretty, creative & sweet!
6 days ago
Plebsen send me the complete instruktions via emai...

Ollie
Easy Crochet Wrap
11 days ago
Thank you for the pattern.