​Crochet Candy Cane Pattern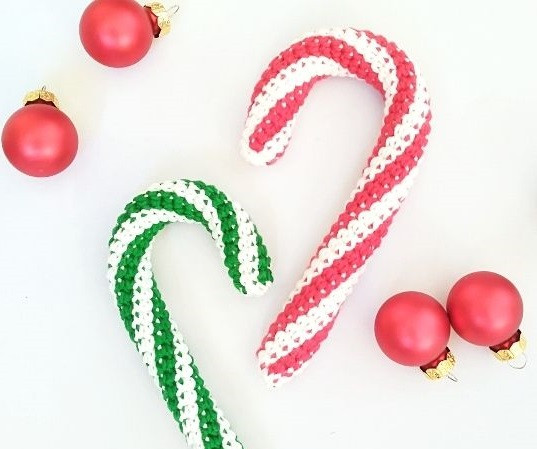 You'll need:
Odds of champagne white (403) color of Paintbox Yarns Cotton DK – color A;
Odds of the same yarn, but in wine red color (416) – color B;
Crochet hook 3 mm;
Stuffing;
14 Gauge Aluminum Wire for Jewelry;
Wire Cutter;
Tapestry Needle.
Size: 5″ (13 cm) by 2.5″ (6 cm)
Instructions
Note. Stuff the amigurumi as you go!
With A, make a MC.
Round 1. Sc 6 in MC. (6 sts)
Start carrying yarn B inside your sts (see the "How to Carry Yarn" panel on the side).
Round 2. ((A) Sc inc 1, (B) sc inc 1) 3 times. (12 sts)
Round 3. ((A) sc 2, (B) sc 2) 3 times. (12 sts)
Repeat round 3 until your piece measures about 7″ (18 cm).
If you're using sport-weight yarn and a 2.5-mm hook, repeat round 3 until you get to ~ 6″ (15 cm).
Notice how the twisted colors are simply created by using the natural slanting of crochet stitches! If you don't know what I mean, check this blog post where I talk about the anatomy of crochet stitches!
Finish filling the candy cane with cotton stuffing.
Cut a length of aluminum wire of ~ 14″ (36 cm). Fold it in half and twist the two halves around each other so that they stay firmly together.
Push the wire all the way through the candy cane and cut any extra wire sticking out.
Assembly
Fasten off B.
With A, sc dec 6 to close the top of the candy cane. (6 sts)
Fasten off and sew the last 6 sts close.
Weave in all your ends.