​Relief Stripes Crochet Tunic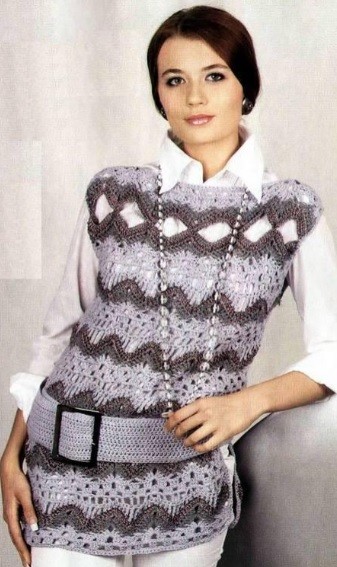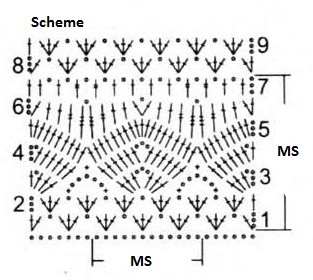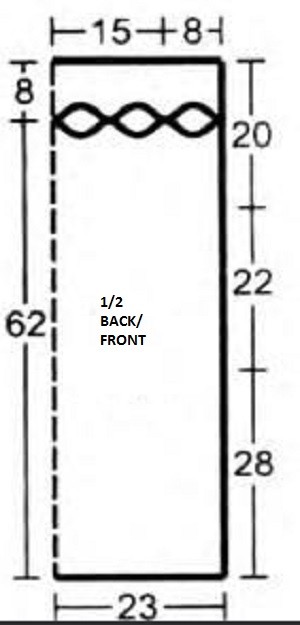 You'll need:
300g of 100% cotton yarn (250m/100g) in light-grey color;
100g of the same yarn, but in dark-grey color;
100g of Mosaica yarn with lurex (96,5% acryl, 3,5% metanit; 230m/100g);
Crochet hook 7;
Buckle for belt.
Size: M.
Stitches control: 16 sts x 10 rows = 10 x 10 cm.
Instructions
Back
Make 73 chain sts + 3 chain sts increase and work due to the scheme, make 1st-3rd rows with light-grey yarn, 4th row- dark-grey, 5th row – yarn with lurex, 6th and 7th rows – light-grey yarn. After making 40 rows from the beginning, finish your work, start making upper detail of back in the same way, as lower. Connect the details of back in 6 points due to the picture below, while making the 5th row.
Front
Make in the same way, as back.
Assembly
Make shoulder seams.
Make side seams, leave 28 cm open from both sides.
Fasten the upper part of top, arm-holes and bottom part with 1 row of single crochets.
Belt
Make 200 chain sts with light-grey yarn and make 13 rows of single crochets. Sew buckle to one end of belt.