​Crochet Slippers for Beginners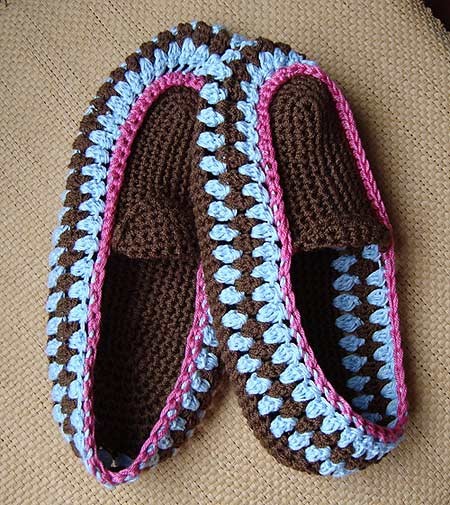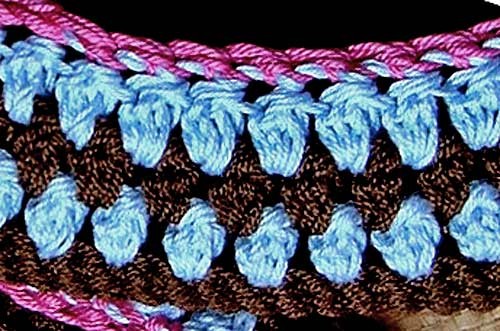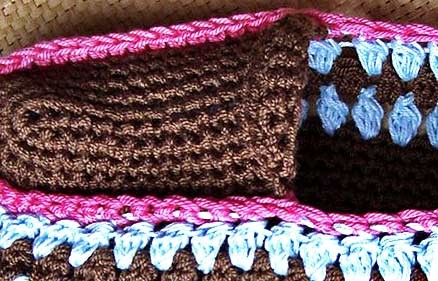 You'll need:
40g of 100% acryl yarn (250m/100g) in brown color;
20g of the same yarn, but in light-blue color;
10g of the same yarn, but in purple color;
Crochet hook 4.
Instructions
Sole
Start your work with sole. Make chain sts equal to 2/3 of sole length. Then, work around with single crochets, increase the sts on the heel and toe. Your sole should have the shape of flat oval. Then, stop making increases and work due to the scheme: 2 double crochets from every 2nd st. Make the next row with double crochets in the space between 2 pairs of crochets of the lower row. Start every row with 3 chain sts increase, change the colors of yarn.
Upper Part of Toe
Make in the same way, as sole. At first, make chain sts equal to 1/3 length of foot. Then, work with single crochets around, increase sts from both sides to get flat oval.
Then, connect the main part of slipper with upper part toe, leave sides for turnings.