Emerald Crochet Jacket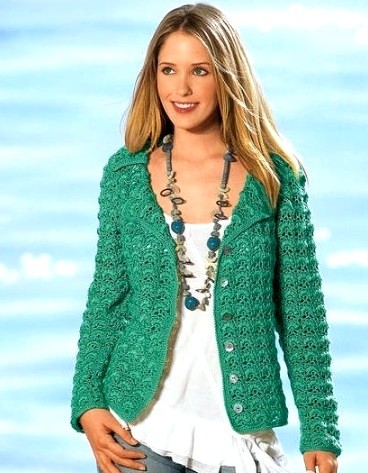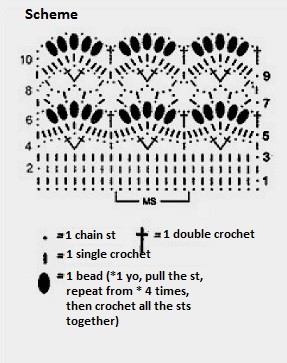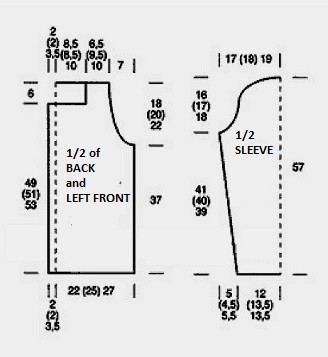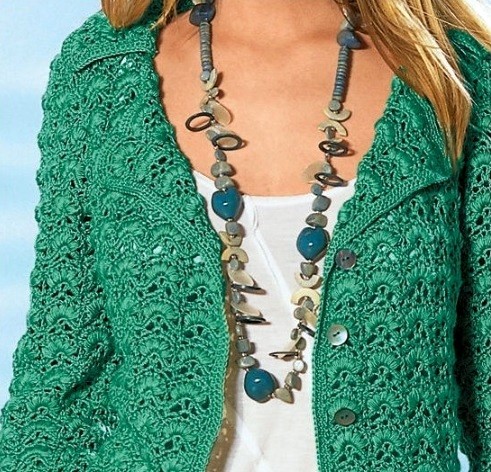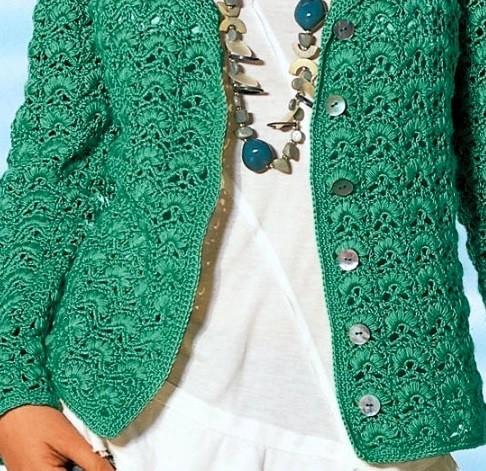 You'll need:
700; 800; 900 g of 100% polyacryl yarn (170m/50g);
Crochet hook 3,5;
Buttons - 6 pcs.
Size: S; M; L.
Used Pattern
Main pattern: due to the scheme, the quantity of sts is multipled 8 + 1 + 1 chain st increase.
Make 1 or 3 chain sts increase instead of the 1st single crochet or first double crochet and sts before pattern repeat in the beginning of each row. Then, make pattern, repeating it the needed times. Finish with the sts after pattern. Make 1st-10th rows in height once, then repeat 7th-10th rows.
Stitches control: 24 sts x 13,5 = 10 x 10 cm.
Instructions
Back
Make 105; 121; 129 chain sts + 1 chain st increase. Crochet the pattern due to the scheme to 37 cm height. Then, bind off 3 cm from both sides for the arm-holes and 1 cm x 4 for the smooth line. Finish work at 55; 57; 59 cm height.
Left Front
Make 57; 65; 73 chain sts + 1 chain st increase. Repeat the description of back, make arm-hole. At 49; 51; 53 cm bind off 10,5; 10,5; 13,5 cm for the neck-hole. Finish at the same height, as back.
Right Front
Make in reflection to the left half.
Sleeves
Make 57; 65; 73 chain sts + 1 chain st increase. Then, work with the main pattern, making chamfers and cap for the sleeve due to the pattern design. Finish work at 57 cm.
Assembly
Make shoulder seams, sew sleeves. Make sleeve and side seams. Make 89; 89; 97 chain sts + 1 chain st increase for the colar. Make the main pattern on these sts, starting from the 3rd row of the scheme. After making to 9 cm height (= 12 rows), finish your work. Fasten the colar, except the bottom part with 3 rows of single crochets. Sew the colar to the neck-hole.
Fasten the edges of both halves of front with 3 rows of single crochets. Sew the buttons to the left half of front in 3 cm from the edge