​Cozy Knit Mittens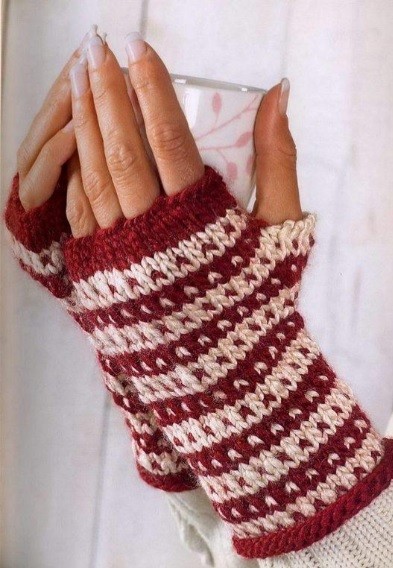 You'll need:
50g of burgundy worsted woolen yarn (80m/50g);
50g of the same yarn, but in beige color;
Double-pointed knitting needles 5.
Used Patterns
Stockinette stitch: all knit sts;
Textural pattern: the quantity of sts is multiple 4. Work due to the scheme. Letters mean colors of yarn. Repeat 1st-8th rows.
Stitches control: textural pattern: 18 sts x 28 rows = 10 x 10 cm.
Instructions
Right Mitten
Cast on 46 sts with burgundy yarn and work with stockinette stitch. Knit the 5th and 6th sts from the beginning of the 2nd row together, 11th and 12th sts as knit2tog, 17th and 18th sts as knit2tog, 29th and 30th sts as knit2tog, 35th and 36th sts as knit2tog, 41st and 42nd sts as knit2tog. Make 2 circle rows of stockinette stitch above the rest 40 sts, then, work with textural pattern. Make the first 20 sts of the row from 8 rows of pattern beginning with beige yarn, then, increase 8 sts and knit the rest 20 sts of lap with beige yarn. Work due to the pattern above the obtained 48 sts, decrease sts in 4 even rows for thumb gore. Then, knit the cuff due to the ornament above the rest 40 sts. In 44 circle rows from the beginning of textural pattern, make 3 circle rows of stockinette stitch with burgundy yarn and bind off the sts due to the ornament.
Left Mitten
Make in reflection to the right mitten.